"You look into the eyes of your interlocutor
and realize that this entity cannot brim with a smart look.
You see the flesh, but communicate with invisible spiritual entity."
Yuri Larichev
"The Slavic Veda. The Hermetic Philosophy in a Readily Understandable Format. The Gospel for Myself."
Let's realize what we say:
My legs, my shoes …

My eyes, my binocular, my microscope …

My ears, my hearing kit …

Etc.
We say everything correctly!
"My" does not mean "Self". "My", on the contrary, means something separate from "Self", from "MySelf".
PEOPLE understand that a HUMAN BEING is not only his "dense" corporeal BODY, it's still something outside it.
Numerous amputations of the body organs, as well as their prosthetics, mean the following:
"Self" of a human being does not occupy any particular part of his BODY.
"Self" of a human being is a part of his body.
Many years ago, Kirlian spouses discovered the lacking (ragged before) leaf fluorescence: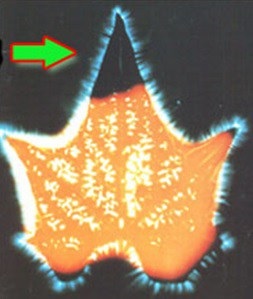 This proves the idea of information storage of this leaf, as if it were an integral object, even if a part of it is already damaged or non-existent. And the whole information about the object is stored in every part of it, even in the smallest one.
It is "Kirlian effect" sets in motion researchers' minds who have begun to argue that this corona discharge is "the very same elusive biofield".
It is the "appearing" of a human being "Self" in the BODY is associated with a process under the conventional "EMBODIMENT" name.